In the real estate sector, first impressions are usually referred to as curb appeal. The elements that a person first notices when looking at your home from the street could be simple things, like the color of your mailbox or main door, to items that require a little money, like landscaping or fencing. A house with the stunning exterior looks nicer, adds value, and consequently impresses guests and potential buyers.
Adding clean and charming outdoor furniture, fixing anything that needs repair, and maintaining a clean lawn can all go a long way in boosting your curb appeal. But there's another major component that you can work with to increase your home's exterior pizzazz – your garage door. It's a dominant feature on display outside, but it's rarely given the attention it deserves. This article talks about five tips you can apply to a mostly-forgotten part of your home to boost curb appeal:
1. Add color and contrast
The color of your garage door is one of the most important things to take into account. That is why it is vital to give your house an instant facelift. There are two ways to go about this: you can either pick a color that hides the garage door by blending it in with the rest of the house or go with something that makes your garage door pop.
With the availability of garage doors for sale online, you can even easily change your drab and old garage door for a new and quirky one. In case, you don't want to replace your old one completely – just get the desired color and paint it yourself. Choose something that is the same color as the walls outside your house if you want to make your home look more significant or if your existing door is old and battered, but you don't have the resources to change it right away.
Also, ensure that the front door is still the most attractive feature, and the garage door complements it. Avoid making them of the same color, and refrain from making your garage door stand out by going for bold and over-the-top colors. Usually, neutral or light colors work best for most houses.
2. Make sure it's dependable
A garage door has to be sturdy and dependable, especially considering how frequently we open and close it. So, buy one that lasts long and won't require constant maintenance.
Models made of composite, aluminum, or steel with insulation can work smoothly for a longer time, while also retaining their beauty. Moreover, the right kind of garage door can also save you on energy bills.
3. Create visual interest
Other than the door quality, investing in decorative hardware for your garage door, preferably something like Ideal Security's Black Garage Door Hardware also adds instant appeal to your home. It works well for non-metal, metal, and wooden doors.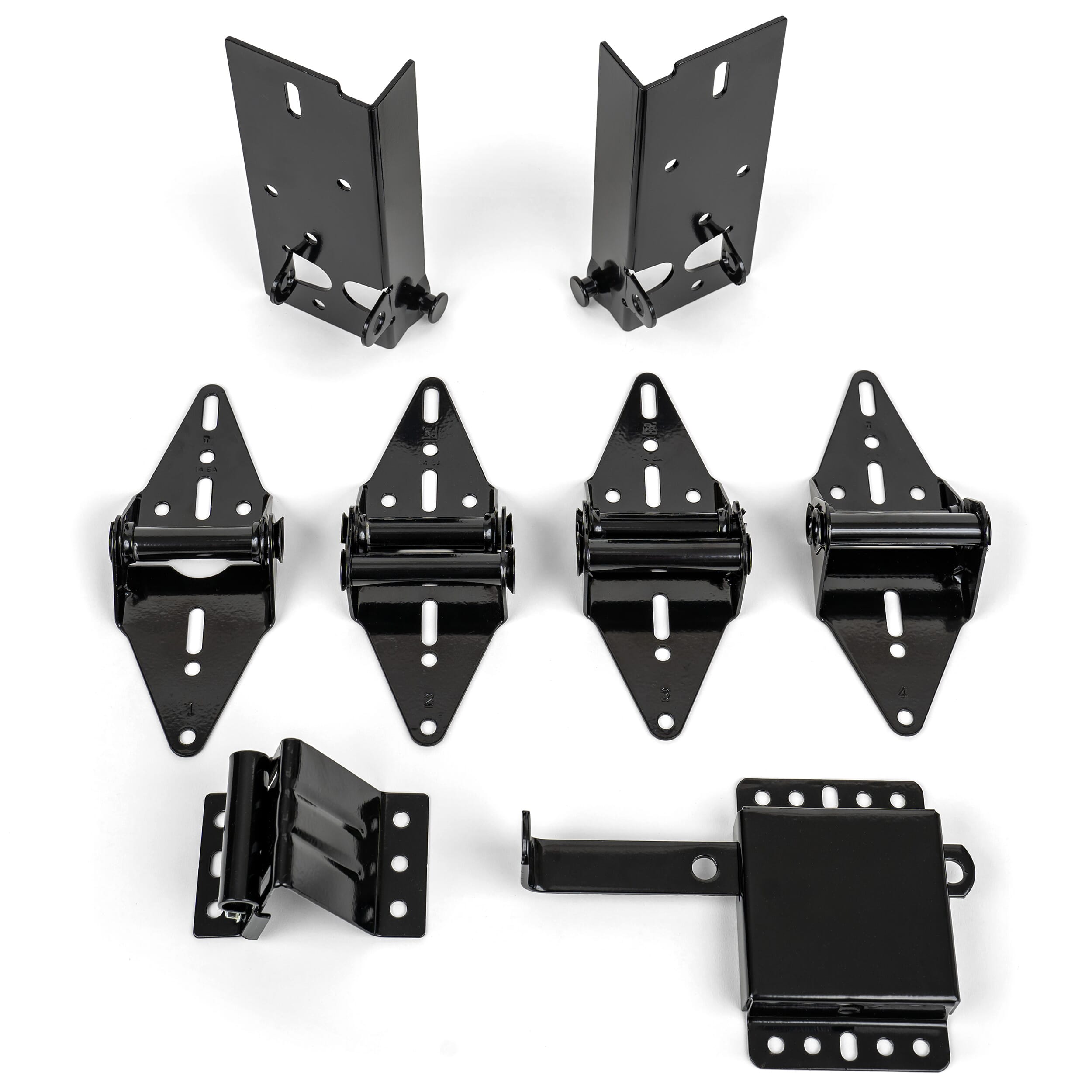 A great tip to improve the boxy, flat look of a traditional garage door is to add visually appealing elements like Ideal Security's Decorative Garage Door Hardware Kit. It might sound effortless, but they go a long way in giving the exterior a finished yet elegant appearance.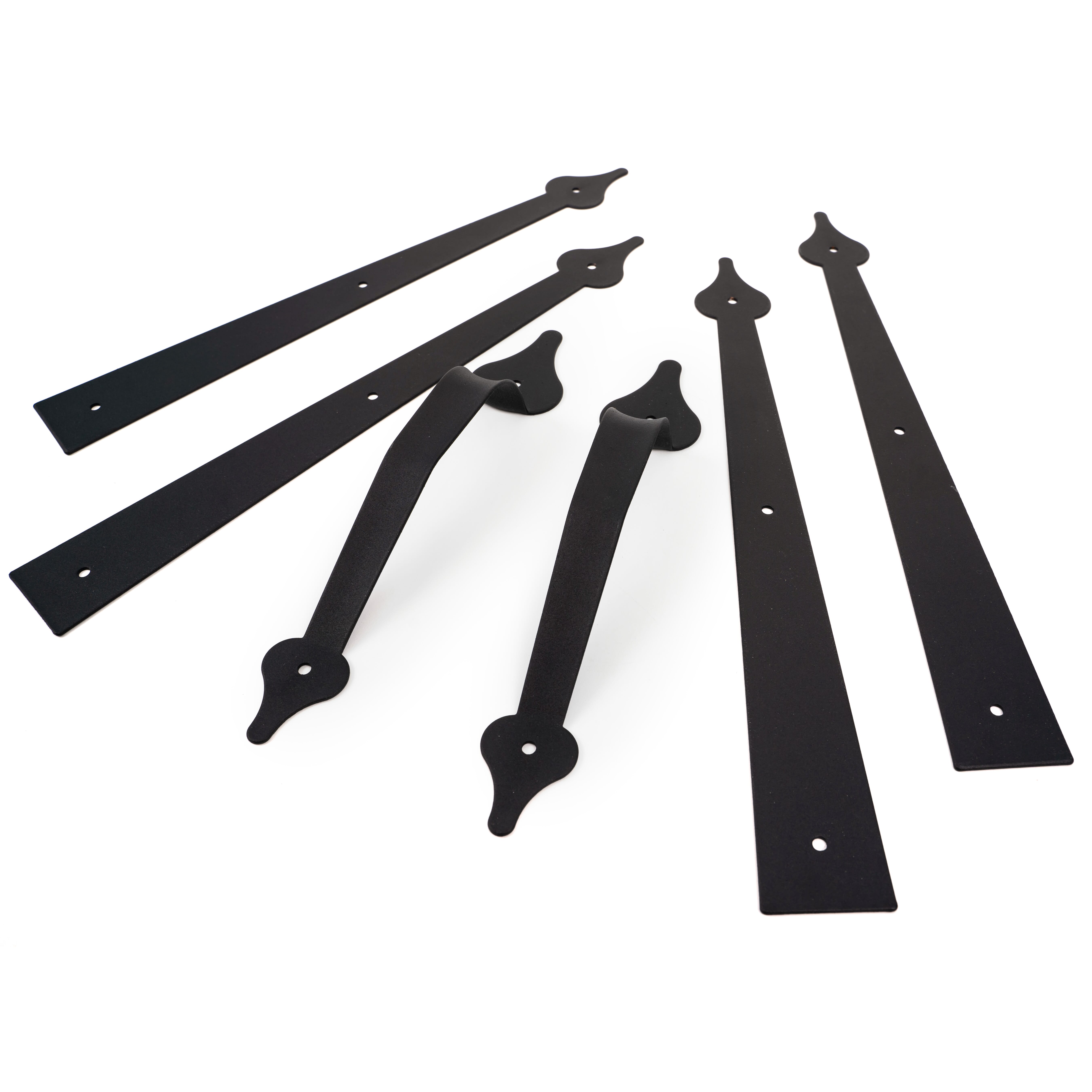 For example, encompassing full windows on the top sections of the door not just add curb appeal, but also illuminate the entire space and make your home look and feel more inviting. Windows for garage doors come in a lot of patterns, style, and shapes so you can create a unique look and set yourself apart from everybody else. Impact-rated glass is also available if you live in areas that regularly experience high winds.
4. Improve the driveway
This tip is an extension of creating visual interest, as improving the driveway is one of the many ways of adding visual appeal. It's one of the first things people notice when they drive into your place. So, make your driveway as aesthetically pleasing as it is functional.
Lights along the length of a concrete driveway are the most popular choice. Additionally, exterior lighting fixtures like wall sconces, downlighting, uplighting, or driveway lights boost your curb appeal by enhancing the style and tone of your home. Potted or climbing plants near the entrance and a manicured strip along the driveway also helps in softening and adding detail to the frame.
5. Search online
If you're still feeling lost, use a virtual makeover app. These apps ask you to upload a clear picture of your home and then let you experiment with different styles and options available to you. Or, you can just browse online for houses similar to yours to see what choices other homeowners have made.
You can also talk a walk through your city and see what color schemes your neighbors have chosen, and how it's working for them.
Final Words
We all notice our garage doors, but how often do we consider the impact it has on the home's façade? A garage door sometimes makes up almost half of the home's façade, and that's why you need to apply these five garage door tips to make sure it perfectly complements the rest of your house and consequently boosts your curb appeal.
Author's Bio:
Sophia Cooper Is a thorough and meticulous Content Analyst passionate about helping businesses succeed. She commits herself to continuous learning and focuses on sharing ideas and techniques learned from her experiences. She is a passionate writer who loves to write in a concise manner so that the information is helpful for everyone. Currently, She's working with a Garage Door Repair company.